When it comes to being a 'Potter-head', you are never too young to start! In the case of this little wizard, before she is even born! A super special baby shower was recently hosted at PCC and I was thrilled to get the go-ahead to share it all with you. Before I even begin, however, I have to give a great big THANK YOU to Abigail Shea Photography for the amazing photos. There was no way I could have captured the essence of this event without you!
Anyone who has read the Harry Potter series or seen any of the HP movies knows that Hogwarts School of Witchcraft and Wizardry breaks down into four 'houses' of students: Griffindor, Hufflepuff, Ravenclaw and Slytherin. The colors for the shower represented these four houses and each guest table had a baby representation of each house's mascot!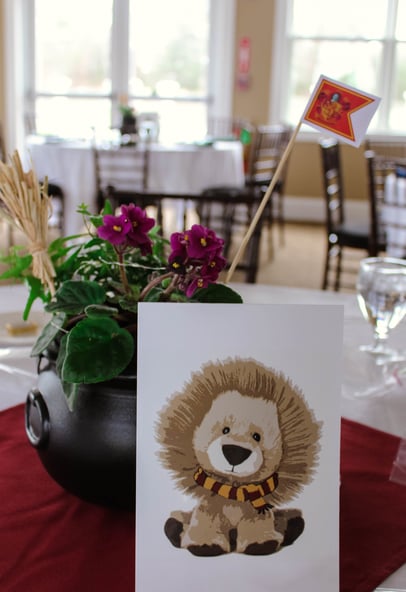 A proud baby Griffindor Lion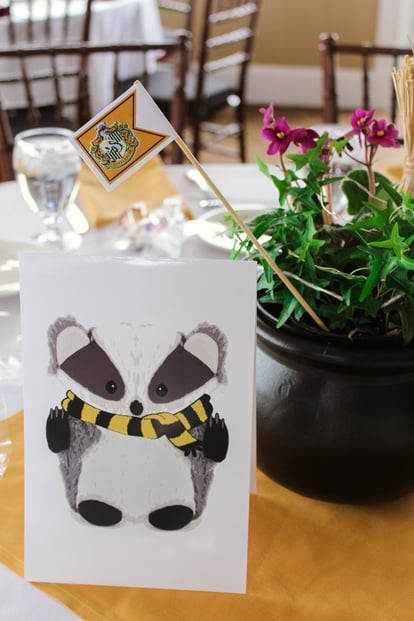 A friendly baby Hufflepuff Badger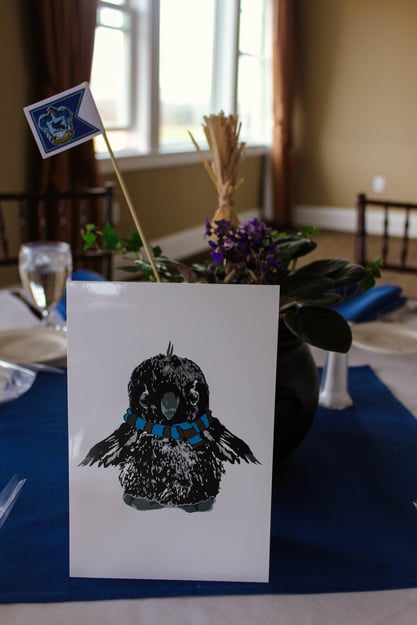 A very imaginative baby Ravenclaw Raven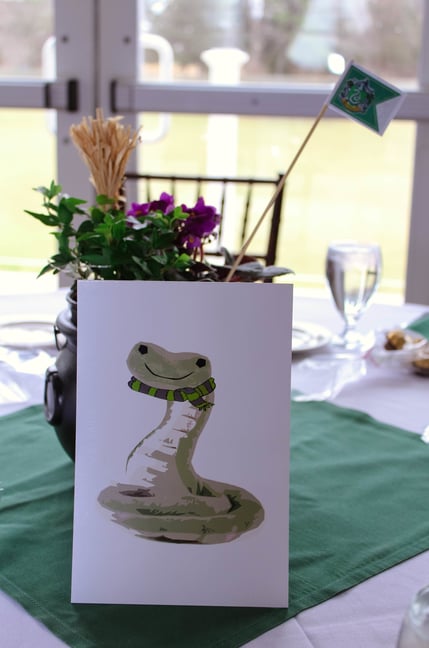 and of course a power-hungry (but friendly looking) baby Slytherin Snake!
The centerpieces were cauldrons filled with ivy and violets and sported a miniature broom and house flag. What topped each place setting off so nicely, however, was the 'golden snitch' favors made by the aunt-to-be! These treats were Ferrero Rocher chocolates with wings to make them resemble the oh-so-quick golden snitch from Harry's favorite game, quidditch!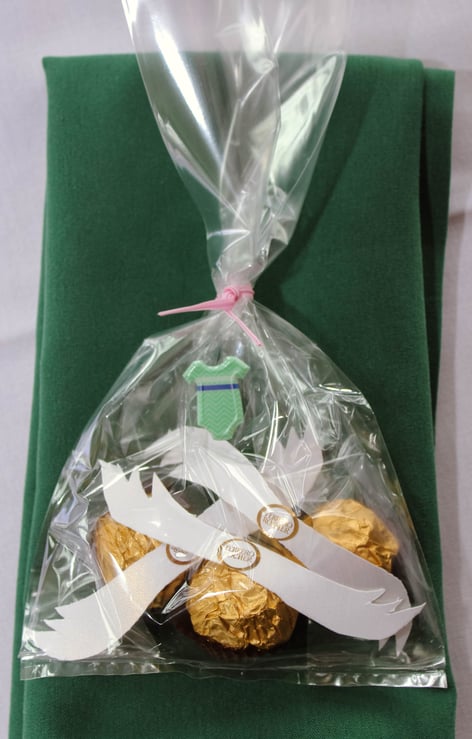 As guests came up the stairs at PCC, they were immediately greeted with signs that without a doubt would let them know they were in Hogwarts country now. The entry-way to the ballroom was platform 9 3/4 (a clever use of a novelty shower curtain!) and every guest needed to make their way through the bricks to the fun that lay beyond.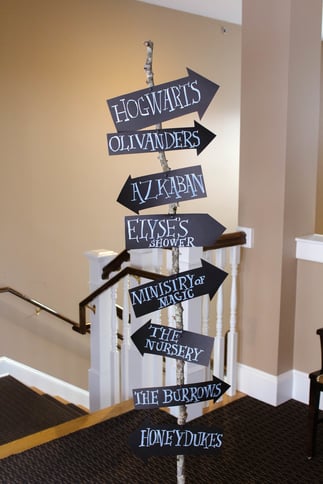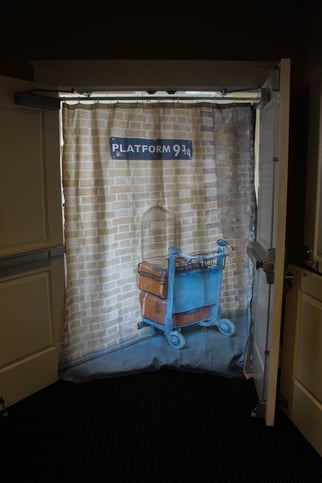 As guests entered the ballroom, the mommy-to-be and daddy-to-be's Azkaban mug shots were on display!
No mistaking them now...these wizards would soon be surprised by all the fun details their families put together to welcome their new little wizard.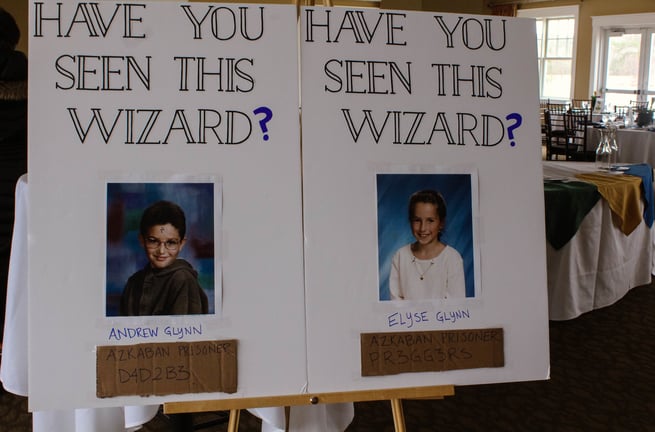 The cake display featured Harry Potter silhouettes, lightning bolts, sorting hats and a 2-tiered cake fit for a princess...never mind a wizard!
Behind the cake adorable outfits for the new little bundle hung on a clothesline ready to be worn.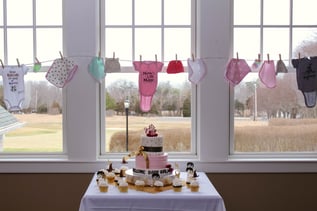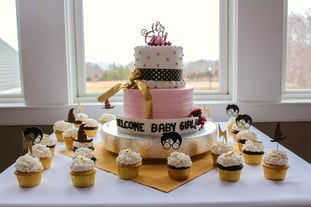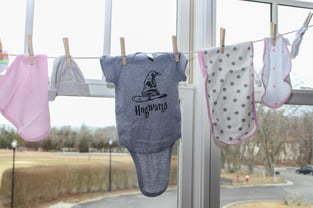 Before gifts can be opened, they have to be sorted of course! What better tool for that than the Sorting Hat?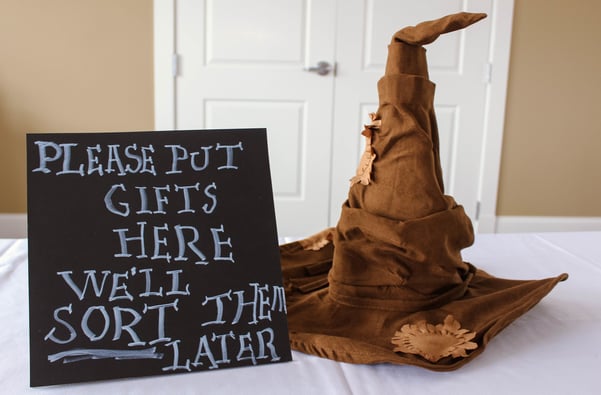 The dessert didn't stop at a jaw-dropping cake...warm butterbeer was passed to guests as gifts were opened! A delicious treat that wizards usually only get on trips to Hogsmeade, we decided that we could make a batch at PCC to honor this little baby girl!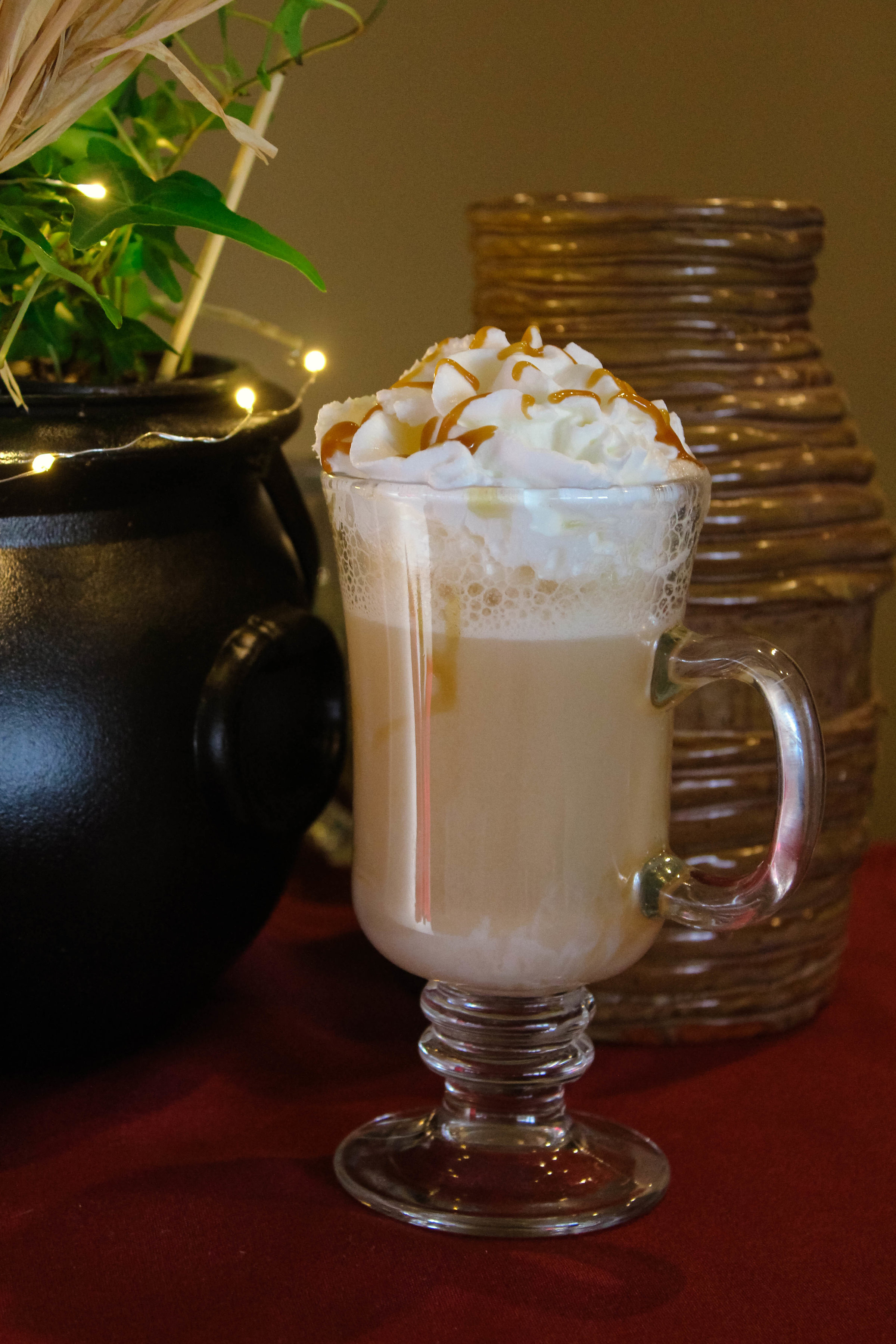 Every detail was perfect for this wonderful occasion. We know many blessings will be on this new little wizard as she makes her way to receiving her own Hogwarts letter when she is 11. Until then, her Griffindor mommy and Slytherin daddy will have to teach her that magic is on the inside and she is loved...ALWAYS.
I am always excited when someone comes in with a creative idea for their event. If you have just an idea or a full-blown plan for your special celebration, come and tell me about it! I am thrilled to help make your ideas come to life. Host your next event at PCC and bring your fun ideas with you!
I look forward to sharing the next extra-special event we host at PCC...Subscribe to our blog to make sure you don't miss a beat! Just click that little button to your right! Its okay, we don't bite!