My friends and family often ask me "how much" of something they should have when entertaining. "Meg--how many lasagnas should I make?" "Meg--how much beer should I get?" Well, the answers to these come from years of event planning as well as some very useful cheat sheets!
In today's blog I will share my oh-so-valuable cheat sheets that I have referenced for years. People wonder how we at Plymouth Country Club know how many hors d'oeuvre to prepare, how much chicken to cook, and so on...well, there are some pretty standard calculations to all of this. Chefs take into account the meal time, the occasion, & the demographic of guest and calculate with poundage and menu options. It doesn't need to be that scientific if you have these charts!
Now, I do ask you to keep your particular crowd in mind when doing these calculations for your next get-together. Consider whether you are entertaining your son's high school football team, your book club ladies, or your family. All of these groups have very different eating habits and only you know best who is going to clean out your pantry.
As far as industry standards, you can refer to the following charts when planning a soire: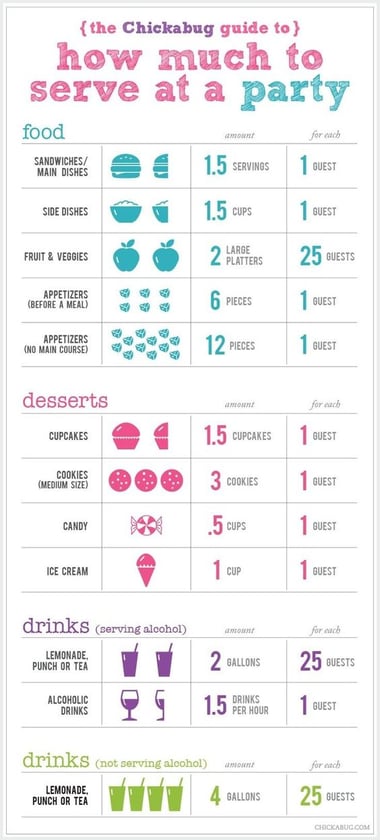 courtesy of chickabug.com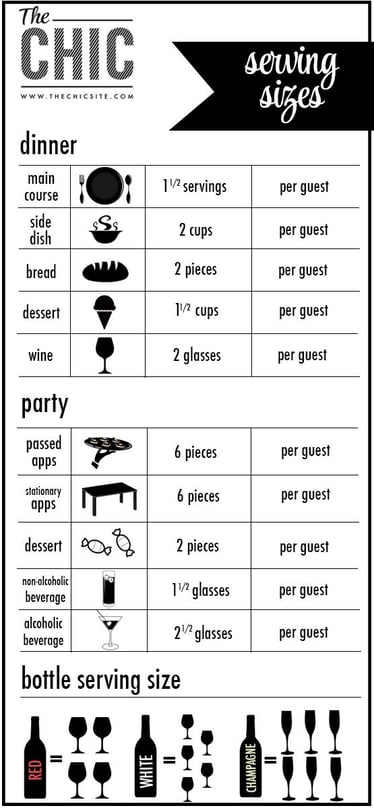 courtesy of thechicsite.com
These charts are SO very handy! There is nothing more embarrasing than running out of food at your party, but there is also nothing as frustrating as having a mountain of food leftover that you will simply never consume and could have saved the money not buying.
One thing people waste the most money on is the bar. The charts above touch on how many beverages to have for a crowd, but this chart below focuses on JUST the bar. Ice can be a tricky one to figure out...typically, the calculation to use is 2 pounds of ice per guest. If you are hosting a 4th of July celebration in your backyard, however, you most definitely want to increase that ratio.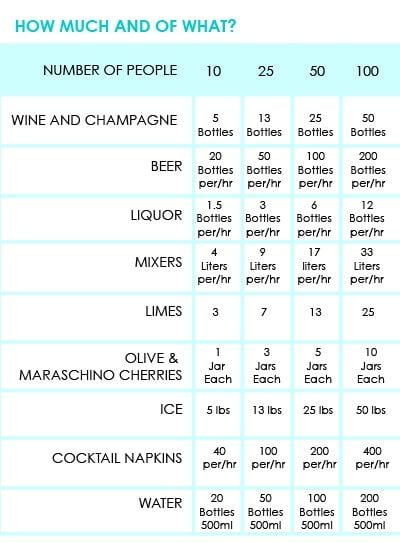 The chart above is also handy as it reminds you to get more than beer and wine for your party. Don't forget the mixers! A good rule of thumb for a party where you are serving hard alcohol is to get: soda water, tonic water, ginger ale, orange juice, cranberry juice and cola. Don't forget the limes, lemons, and other garnishes!! If you are serving beer, wine and soft drinks only you can stick to: cola, lemon lime soda (such as sprite), ginger ale, seltzer and cranberry juice.
So keep these charts handy for the next time you find yourself in the hostess seat...I promise you will thank me! Until then, happy hosting!