As today is Thanksgiving, I felt it only proper to give thanks for one thing we all love here at Plymouth Country Club: GOLF! Before you roll your eyes and click to the next post...hear me out. Golf is legendary. Staring in the Scottish Highlands, golf has grown into a gentleman's (or gentlewomen's) sport. This post is to remind us of three reasons we should be thankful for this great sport.
REASON #1 TO BE THANKFUL FOR GOLF: This game is a chance to improve your positive outlook on life!
The weather conditions, seasonal rainfall on the course, time of day and even your mood can all change the game in good and bad ways. Every time at the tee is unique and every shot is a chance for perfection. What we should be thankful for is every great shot we take. Far too often we are great at shaming ourselves for our missteps but don't give the same energy to praising ourselves for our victories. According to TrainingforOptimalPeformance.com "positivity and gratitude lead to the type of mental game that produces more fluid swings, good ball contact and consistent ball flight." The same goes for our outlook on life--when we beat ourselves up our head is down not looking toward the future...when we praise our successes, our head is held high and ready for the next opportunity.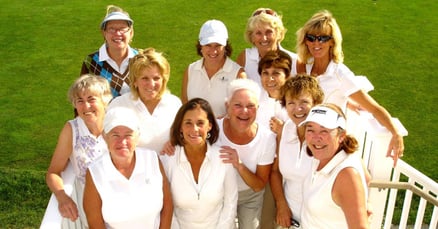 REASON #2 TO BE THANKFUL FOR GOLF: Friends!
In what other sport can you show up alone and leave with new buddies? Playing 18 holes with anyone from a perfect stranger to your childhood best friend can bond you closer. Golf is a game that allows for conversation. You aren't running up and down a court or separated by a field...you take the journey with your partners good or bad. Hunting in the woods for another player's lost ball is one of the ultimate shows of friendship if you asked me!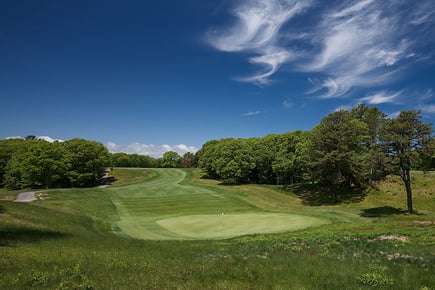 REASON #3 TO BE THANKFUL FOR GOLF: Beauty
You may be able to see a lovely skyline from a baseball stadium, or find the gridiron to be a sight that gives you goosebumps, but there is nothing like the beauty of a golf course. Whether you take the 18 holes on foot or by golf cart, you share that time with acres of meticulously manicured fairways and greens. Some golf courses boast cliffs and ocean views others share their sky with mountains and majestic trees. The hours spent playing golf are hours spent in nature. Take a deep breath, and be thankful for the beauty surrounding you.
As we say at Plymouth Country Club: "Better your game, have some fun and meet lifelong golf partners". If this sounds like what golf should be to you, check us out...we are thankful for golf, our members and the lessons we learn along the way.