When it comes to planning an event of any kind, there are 2 kids of hosts: laid back, no frills, let the party happen kind of people...and detail oriented, go-all-out kind of people. I identifiy with the latter for sure. When it comes to entertaining, my motto is "go big or go home" and that doesn't always mean a huge budget, theme party or over the top extravagance. When I 'go big' it means I pay attention to every little detail. In this blog post (part one of many), I will discuss the ever-important detail of the invitation.
I can remember filling out invitations like the one below for everything from a birthday party to a bridal shower. Receiving one of these in the mail was always a thrill and it immediately went up on the refrigerator! While these ready-made invites are still available and functional, the art of the invitation has come a long way!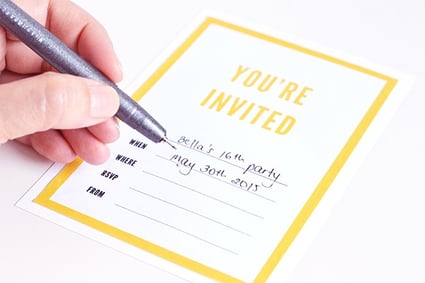 A guest's experience of your event begins way before they show up at the party. It starts with the invitation! An invitation is the first glimpse a guest receives to give them an idea of what kind of party they are invited to. In the age of evite and electronic communication, the art of the hand written invitation is suffering. Megan Chapin Calligraphy (work pictured below) in Boston specializes in the art of the written word. Creating a masterpiece in calligraphy makes your guests feel special and really communicates that this event is something unique.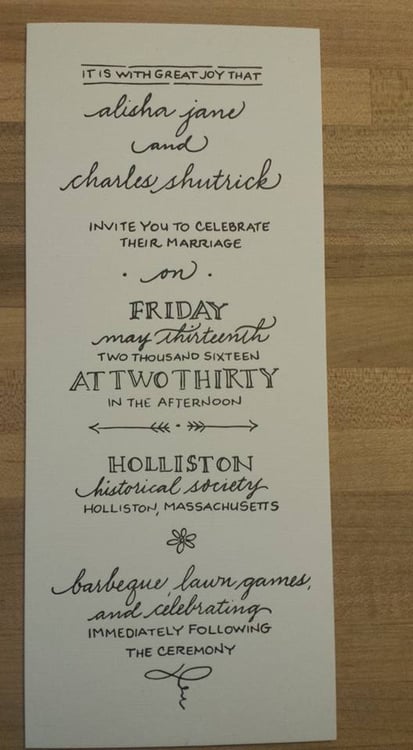 By combining lettering styles, the 'casual' nature of the this wedding is reflected here. It sets the tone. It makes you smile!
Sometimes it is the kind of paper or the way an invitation is folded that can convey what guests should expect at your event. Will it be fun? Formal? Frilly?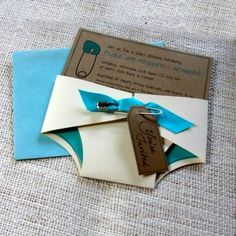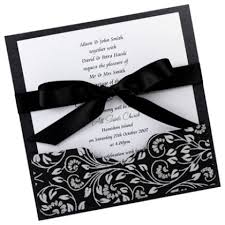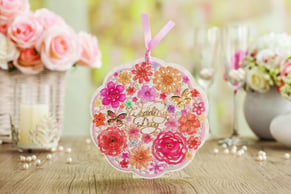 Alternative invitations are being sent on more than just paper these days. If you want your event to truly stand out from the rest, consider one of these unique ways to ask guests to attend: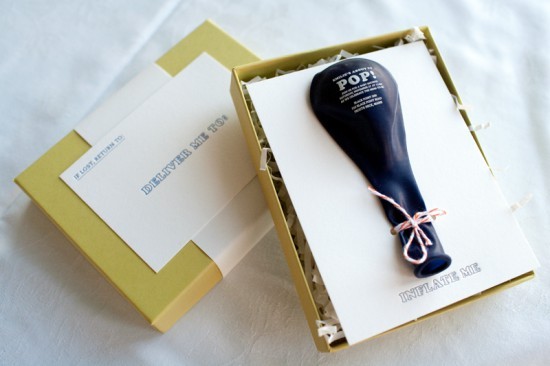 Have your invitation printed on a balloon so that your guests see the details when they inflate it! What a whimsical way to ask someone to your soire! Hullaballo Printing can help with this fun project.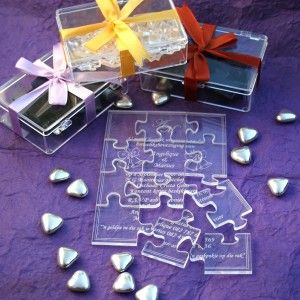 Have your guests put the pieces together with a keepsake puzzle invitation! CreateJigsawpuzzles.com can create a wide variety of invitation puzzles...it will be sure to have your guests talking about your event before it even happens!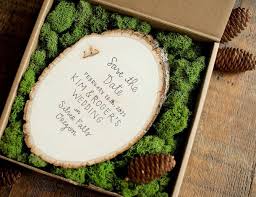 Bring the outdoors in with a wooden invitation! This save the date package gets each guest ready for a rustic and beautiful setting. Having a beach party? Swap the moss and bark for sand and shells!
No matter how you decide to ask your guests to your next event, be sure it reflects the tone and style of your party. Remember a first impression is a lasting one so make sure to put your best foot...or invitation...forward!