Selecting the right setting to say "I Do" can be confusing. It seems nowadays that everywhere is a wedding venue! Old barns, artist lofts, museums, libraries and even empty warehouses now boast that they are wedding venues. Can these unusual spots host a weddding? Technically, yes. Are there logistics beyond imagination to account for? Um...yes.
So why should you host your wedding at someplace so mundane as a golf club? SO MANY REASONS!
1. Golf courses are inately beautiful...manicured grounds, sprawling vistas and winding paths are just a few of the gorgeous sights on a golf course. Not only will you have a lovely spot to say "I Do", but your photos will reflect that beauty.
2. Golf courses generally have facilities big enough to feed a crowd. Private clubs and public courses alike, the one thing a golf course can accommodate is a crowd! With a full field of 144 players in a tournament all at once, any golf club can certainly host you and your 150 closest family and friends.
3. FUN! Golf courses are places of recreation. The quirky touches you can add to your day as well as photo ops are endless.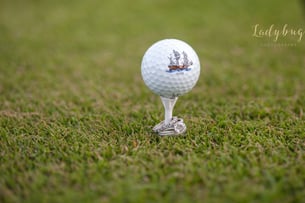 What is more adorable than your wedding rings with a tee and golf ball?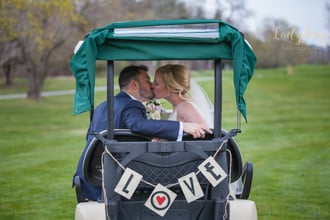 a kiss on a cart!
Walking a winding path hand in hand at sunset paired with golf tee boutenieres, golf ball favors, and photos of the groom and his guys teeing off...it is the perfect combination of romantic setting for the bride and fun setting for the groom!
So don't dismiss your local golf club as a possibility for your dream day. It just may be the venue of your dreams!
Be sure to check out our Wedding Menus at Plymouth Country Club, "America's Hometown Club"!