---
Well...you've been put in charge of organizing a golf outing. Even though everybody is guaranteed to have a great time regardless (who doesn't love golf?), you're still feeling a LITTLE bit of pressure putting this thing together.
Well fear not, my golfing friend! I'm here to offer up some help that will walk you through this sometimes stressful process.
To get started, just ask yourself these 5 questions.
---
1: What's my budget?
The answer to this question will determine a number of things about your outing.
The course you choose
What's included (food, prizes, etc.)
The size of your outing
When your outing is held
Once you know your budget, you can start researching different courses and clubs to figure out which matches your budget and provides the most value for your guests.
2: Who are my sponsors?
If your event is a charity event, sponsorships are an important subject to tackle ahead of time. The majority of the money you raise will come in through endorsements if you approach the collection of sponsorships effectively.
Start by reaching out to local businesses with whom you've networked before. A great way to guarantee their participation is by focusing on businesses who share an interest in the same charitable cause. Something that a little research and conversation could help you find out!
3: What's the talent of the field like?
Is your group going to be made up of people who are just now learning the game? Maybe your group will be full of low handicappers. Or maybe it will be a mix of both.
This will impact the course you choose as well. A group of inexperienced players will probably enjoy an easier course rather than one that has a reputation as a serious test of golfing skill.
4: How can we add some extra fun?
Sure, just getting out and playing 18 holes is fun by itself. But golf outings offer a chance to make things interesting. Set up a fun playing format or team tournament. I recommend playing a Scramble or Best Ball which helps to even out the playing field.
Often times the club staff will assist in setting up the the scoring for your outing. If this is something you don't have much experience in, I recommend choosing a course that will help you in setting up a tournament.
5: What's happening after the round?
Why stop at just golf? Especially if your outing follows a shotgun format, people are going to want to mingle once the round is finished.
Make sure the course you choose has a banquet or event room for a post-round cocktail hour or dinner. A great backup plan is to host a dinner at a nearby restaurant, but your guests would definitely appreciate a reception right at the club!
---
Our team at Plymouth Country Club has done this kind of thing before. Our expert golf staff handles all of the event day responsibilities so you can focus on your guests and enjoying your own time during the outing.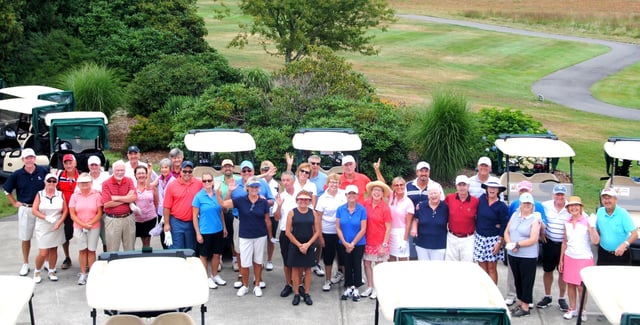 As far as our course goes, it offers a perfect mixture of simplicity and challenge. Depending on what tee you play from, this course can be a fair test for beginners AND low handicappers.
We can work with you to make sure your guests play the course in a way that makes sense for their skill level.
And our food is a big part of it too. Our executive chef takes care of everything from boxed lunches to the post-round buffet.
Also if you're looking for a great deal on golf for yourself in the meantime, check out our sick deal for a 2016 Fall Membership at Plymouth!